How to make grip bags
Grip bags are quick and easy to make, and a fun way to personalize a gymnast's equipment. You can use pretty much any kind of fabric for them, from fun printed quit fabric, to glitzy metallic spandex.
Sizing of grip bags is completely up to you... the younger gymnasts will usually use smaller bags, while older girls tend to have more stuff to carry - butt glue, tape, etc in addition to their handgrips. As an example, this grip bag demonstration used two pieces of fabric that were cut to roughly 8 x 11 inches.
To begin, serge or zig zag around each edge of both pieces of your cut fabric. Place the piece with right sides facing each other. If you'd like to, pin the two pieces together.
Starting on what will be one of the sides, start a straight stitch seam about 2" below what will be the top edge of the bag. Stitch down the side to the bottom, pivot, sew across the bottom. Pivot, sew up the other side, ending 2" from the top.
Open your bag a little, to be able to flatten one of the side seams. Press open the seam near the top, using either your fingers or an iron. (I'm too lazy to bother with an iron!).
Starting at one top edge, stitch the flap of the seam down, ending just below where the original seam started. Pivot, sewing a short seam across the bottom of this v shaped opening, and ending almost at the serged edge of the other side. Pivot, and sew the other side flap down, ending at the top edge.
Fold the top edge of the bag over 1", with the right side facing out. Press it down, again either with fingers or an iron. Repeat on the other side.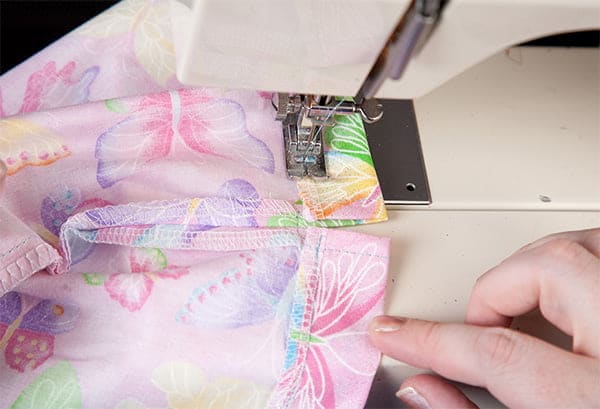 Sew a straight seam along the serged (formerly!) top edge of the bag, the whole way around. Stitch over the initial few stitches when you reach the starting point, then stitch back and forth a couple of times for extra security.
Turn bag right side out.
Run a cord through the top channel of the bag. Tie the two ends of cord together a couple times so that it forms a loop of the desired length. Trim very ends of cord, if necessary.
Interested in learning more about sewing for gymnasts? Check out my book "Spandex Simplified: Sewing for Gymnasts"! In it, you'll learn everything you need to know about designing and creating spectacular and durable figure skating dresses.
"Sewing for Gymnasts" is the third title in Marie Porter's "Spandex Simplified" series, and is all about designing and creating spectacular and durable leotards for gymnasts of all disciplines - Artistic Gymnastics, Rhythmic Gymnastics, Trampoline, Tumbling, Acrobatic Gymnastics, Aerobic Gymnastics, and more.
This book is appropriate for beginner to advanced levels of sewing ability, and is written from both a designer, and former "performance" athlete's point of view. It will teach everything from the basics, to tricks of the trade. "Spandex Simplified : Sewing for Gymnasts" will prepare the reader to design and make almost any design of practice or competition leotard imaginable - for any gymnastics discipline!
Given the cost of decent competition suits - or even practice leotards! - this manual will more than pay for itself with the savings from just one project!
The entire book is written completely in laymans' terms and carefully explained, step by step. Only basic sewing knowledge and talent is required. Learn everything from measuring, to easily creating ornate applique designs, to embellishing the finished leotard in one book! For a complete table of contents, more information, or to order, click here.