With all of the time spent working on my new book "The Spirited Baker", and now working up to the release of it... well, there hasn't been a lot of cake being created here... Well, now I have one to share!
This cake was made for one of my geeky tweeps. Her husband and her have had a running joke about a "Ganache Ganesh" for years. (Ganache being the thick chocolate filling that truffles are made from). She jumped at the chance to make their in-joke a reality, and planned to present him with a birthday cake of epic proportions. I am pleased to present "The Ganache Ganesh"!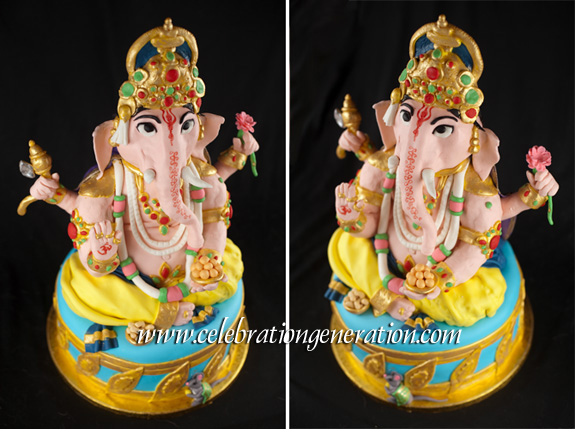 This cake is entirely edible, aside from a couple dowels/wires in the extremities. The base and most of Ganesh's body is made from our B-52 flavor cake:
"Not only delicious, this cake is a visual delight when sliced! Alternating layers of blood orange and mocha cake are filled with alternating layers of Irish Cream Mousse and Blood Orange chocolate truffle ganache!"
Awesome.
The rest of the cake is sculpted from Rice Krispies.
Watching the comments come in on Twitter and facebook has been great! A few of my favs:
"Wow, I had to convince my husband that was a cake."
"That is possibly the coolest cake EVAR, and then the name makes it even better. More pics please!"
" "Look at your man. Now look at me. Is your man covered in fondant?" need an occasion to get @Celebr8nGenr8n to make that one. 😀 "
" That is amazing! The secret ingredient is obviously insane amounts of awesome. Well done."
" I love your cakes. Love and hate..cuz they're gorgeous...but then it makes me crave your delicious cake."
Thank you kindly, everyone! It was a lot of work, but the pics and reactions make it SO worth it!