It's been a crazy few days. We still don't have electricity, and the I'm sitting in a coffee shop writing this, so bear with me. I'll list our needs at the end of this post, per your requests!
Sunday morning, my husband and I rented a moving van. We moved our commercial mixer out of our old garage, where it's been stored since I quit making cakes... moving it to my father in law's house for storage. (By the way, 30 quart Hobart is available for sale!) See details in comments!) We picked up a tree that we'd reserved through the local Tree Trust, and we bought and hauled the lumber we needed to put railings on our deck, per requirements from the city. This was for our new house, purchased 2 months ago.
We had just unloaded everything at the new house, and dropped off the truck at the rental place. We were finally sitting down for a late lunch, congratulating ourselves on a LOT of work. We planned to grab lunch, go home, sit in the hot tub and relax the rest of the day.
Then the sirens started going off.
We decided to head home, and the rain started sheeting down like nothing I've ever seen.
Then our home alarm company called, letting us know that our basement was reporting a fire. We have 4 cats, and we didn't yet know our neighbors, so we were VERY freaked out. We raced home, through flooding in the streets and AWFUL weather, fearing the worst.
The alarm company called back to say that the roads were "impassable", and that they would not be able to get the fire department to our house. We freaked out even more, thinking that we would be running into a burning house to extract our cats, who would likely be hiding. We actually had the conversation, planning who was going to grab what, what we would have to save, etc. No one should ever have to have that conversation, especially not when tearing up the roads, worried about coming home to dead cats. I can't even express in words, how upset we were.
We got a mile or so from our house, when we were stopped by a roadblock. We turned north, and encountered a tree across the road. We turned down another street, and there was another tree in the way. It was all very surreal. Loads of HUGE trees, uprooted like they were mere weeds. I was hyperventilating, Porter was trying to calm me down, and it seemed like a nightmare. I've never been so scared and upset in my life.
After navigating the new maze, we managed to get about 3 blocks from our home. We got out, and sprinted in the general direction of our house, completely disoriented by the chaos around us. Trees everywhere. A roof on the street. Garages smashed in, people everywhere, being careful to avoid the masses of down power lines. All we could think of was our cats, and the fire that had been reported. I've never been so scared in my life.
When we got to the house, we realized that there had been no fire, so we were lucky there... not so lucky in other respects. There were trees sticking in our bedroom wall, we had to duck under a toppled tree to get in our front door... another of the trees in the front yard was leaning on our neighbor's house, ripped right out of the ground.
It took a couple of very tense, sometimes hysterical hours, but we found all four of our cats. They were badly shaken up, but otherwise ok and uninjured. We closed them off in the bathroom, while we surveyed the damage.
This is really hard to write. A lot of Sunday was a blur. I remember being our on the front steps, crying and shaking, while my husband went to see what was going on. I thought I was going to have a total nervous breakdown. I looked out over my street, and it was just... surreal. It was like something out of a disaster movie, but so much worse. Our street had been canopied by many VERY old trees, they were now almost all flattened. Ripped out of the ground, roots and all, like they were NOTHING. Some were on cars (including mine, totally buried under a large tree), some were on/through houses... some houses were missing their roof. At least one garage was just no longer there. Distraught people were EVERYWHERE, wandering around in shock. No one knew what to do.
We're still finding our what all was damaged, but here's a short list:
- Roof is destroyed. From the evidence inside, it looks like the tornado pulled the roof up and dropped it back down on the house. In our bedroom (a converted attic), the ceiling is no longer attached to anything above it, and you can easily lift the ceiling just by pushing up on it. along the edge between wall and ceiling, there is a fair amount of damaged from where it pulled up. Outside, the whole ... overhang?... of our roof is completely missing on the side that the tornado hit from.
- There are several trees sticking our of our bedroom wall.
- Our giant black walnut tree - the one I was super excited about - was uprooted and flung against out deck, porch, and roof. All 3 are destroyed, even according to the insurance adjuster. He wrote them all off. The tree had to be cut up, yesterday. Very upsetting. It was HUGE, a gorgeous tree. It canopied our entire yard. The tree devastation is just... it's incomprehensible. Words and photos will never do justice to the destruction that surrounds our "new" house.
- My car was pretty smashed up. A big tree landed on it, smashing the front and back windshields, both mirrors, and smashed in both driver's side doors. The car was not insured for this, either 🙁
- All of our fencing is pretty much destroyed, along with our patio furniture, BBQ, and brand new smoker.
- A utility company transformer smashed through our garage roof, which now has a huge hole in it.
- Our kitchen is destroyed. The roof damage above it let in a bunch of water, which caved in the ceiling. The floor is damaged as a result, and water poured down through it into the basement.
- The glass door in our bedroom, which opened out onto a tiny deck, is shattered all over our brand new carpet. I don't even know if you can get all of that out, so we may be stuck wearing shoes up there 🙁 That little deck is also destroyed.
Psychologically, I really don't see how 'm every going to feel safe again. I was almost phobic about tornadoes as it is, and now... I just don't know what to say. I'm trying to write this as calmly as possible, but going over everything in my head is hard. I'm trying to keep things together, to work on the logistics that we're forced to deal with.
If you remember me blogging about our home insurance drama, it shouldn't surprise you to hear that we are very much under-insured. Because it was an unoccupied foreclosure property at the time we bought/insured it, we were forced into taking MUCH less than ideal insurance, from the only company that would touch it at the time. The plan was to go with it, make our renovations (which we DID, prior to the tornado!), move in, and be able to get normal insurance afterwards.
Well, yeah. We're hurting for that now.
Basically, our coverage is awful to start. Our adjuster didn't get ahold of us til Tuesday, and won't be coming out til THURSDAY - 4 full days after Sunday's tornado. It's really sucked, watching other houses being visited by THEIR adjusters from day one.
(Update: they wrote it all off, full replacement value... but we blew past out coverage limit 🙁 ) Aside from that, the policy reads in such a way that it's not going to give the full replacement value of ANYTHING. Additionally, it does not cover living expenses that we incur, while our home is unlivable. (You'd think they'd be able to RUSH an adjuster in so we could get it FIXED faster, but no). It looks like we'll be spending the next month or so living out of hotels.
Having just bought the house and financed the needed renovations, we were house-poor at the point this happened. We had/have NO budget for extras of anything, most certainly not deductibles, a new car/car repairs, paying the difference between what we need fixed, and what the insurance will cover... or a MONTH'S worth of hotel stays!
So, the money thing is stressing me out. Being short one car is a big problem, too.
Labor-wise, we've been less stressed out. Though there has been a TON of trees, rubble, and general debris to dig our house out from, we've had NO shortage of friends and acquaintances willing to help out. The local geek community is amazing, and I'm blown away by all of the help that we've received with the cleanup.
If it weren't for these guys, my husband and I would have been going "Lord of the Flies" after the first day. Oh, an observation? Tornadoes and Asperger's don't mix. Destruction, the change that comes from it, people everywhere, chain saws, and helicopters overhead? Yeah.
Even friends of friends - people we had never met - have been stopping by, rolling up their sleeves, and dealing with gruelling, awful work. We've seen friends have FAR too much fun with their chainsaws, cutting up the various trees that ended up in our yard. One person that I've only met - briefly - on two, maybe 3 occasions... well, he towed my car out of the road, and all the way to St Louis Park. He later returned with some SERIOUS equipment, and has been hauling huge chunks of tree out of our yard with it.
We've finally started meeting our neighbors, who are all very nice. It's been great to see everyone helping each other out in various ways. It's amazing that such disaster has brought out the best in so many people. (I'll leave the opposite side of that - the opportunistic vultures that descended on the area - for another post)
I haven't been able to keep up on all of the public and private messages on twitter, or the messages and posts on Facebook. We really appreciate all of the offers of help, and everything that everyone is doing for us. I am picking away at all of the replies, and I swear I will answer every one... it'll just take a while.
Rather than answering "What do you need?" and "Can I donate some money?" to every offer, I'd like to answer all those questions here.
There are SO many people that are much worse off than us - people who had NO insurance, and people whose homes were destroyed beyond repair - that we have decided NOT to make use of the Red Cross / city / etc disaster relief offerings. I'd like to see that sort of public type money going first to those who really, really need it. We had some insurance, and we're resourceful... so we wouldn't feel right getting aid like that.
However, there's no way we're going to come close to covering our financial costs. So, if you're interested in helping out financially, here are a few ways to.
1 - My preferred means of helping us - order my cookbooks! I'd rather earn the money than accept much charity. The Spirited Baker and Evil Cake Overlord can both be ordered directly from me - my cases of books were unharmed! Also,I coded a new page this morning, which allows people to order from anywhere in the world now! Click here if you're ordering the books from outside of the USA.
2 - Per request, I set up a "donation" link through Paypal, for those who prefer the more direct approach:
I have plans to come up with some nice thank-you gifts for those donating through Paypal, so we don't feel so awful about setting up this option. It'll just be awhile before we get that together, so please have patience!
As for non-financial needs, here is what we've come up with so far:
- It would be great if we could get massage certificates for our volunteers. This has been insanely gruelling work, and they're not pros. They're going to HURT later, and I'd love to be able to ease some of that discomfort!
- Restaurant coupons. If you have any Groupon type vouchers, Entertainment coupons, or anything like that, that you're willing to part with, that'll help us with our month or so of non-covered-by-insurance forced "vacation". Without a kitchen / house/electricity, these kind of costs are going to cripple us.
- Suggestions. We could use some suggestions on where to get good decking material cheaply (Cedar), where to get the car fixed cheaply, and who - if even possible - we can hire to clean he upstairs carpet. It's not ripped or stained, but all that broken glass is a HUGE concern. We're really hoping the glass can be safely removed from the carpet, rather than having to replace it or have to wear shoes up there forever.
- Spread the word. I would LOVE to get the book more out there, and EARN our way through this. If you know Food or liquor/lifestyle/etc bloggers, media, book store owners... please put in a good word. I can't afford to give away a bunch of review hard copies, but I have digital copies of both books. Any book publicity or bookstores/gift shops willing to carry the book would be awesome. As a introductory special, we're offering only a 2 book minimum order for wholesale opportunities!
I think that's about it... I'm exhausted, and probably overstaying my welcome at Caribou! Need to get back to hauling debris, I just wanted to be able to provide answers to all of the questions about what happened, what shape the house is in, and what we need! I have small file photos of our house on our Facebook page here, and will post a few below.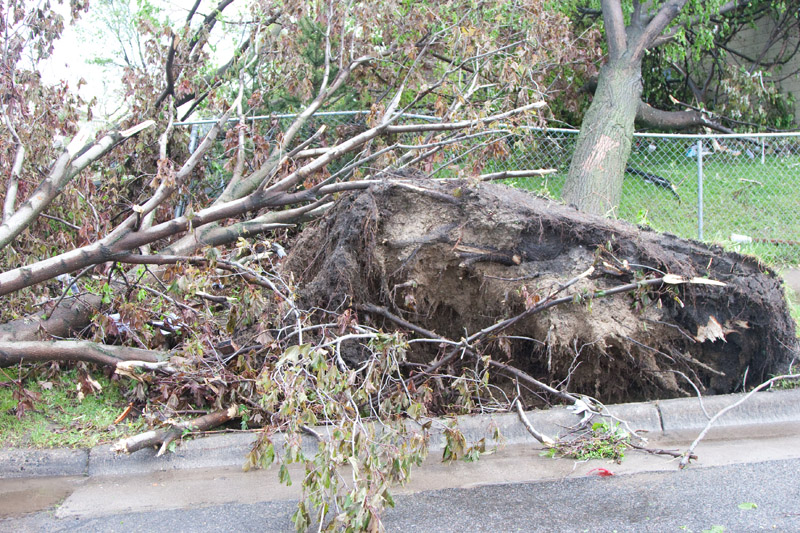 PS: Check your insurance policies! After a tornado is NOT a good time to find out how horribly UNDER-covered you are!
Ok, signing out for real now!
Update: We had a carpet cleaning company in, and we THINK we may have saved the carpet! We'll wait to decide what to do, until after we move back in and get a feel for it. Luckily, it was safety glass... so cross your fingers!
Update: The tree is chopped up, ready to be milled when we have the time/money for it. We wanted walnut cabinets, and had no budget for that. Well, I guess mother nature REALLY wanted us to have them. Insistent, really ... THROWING the wood at the kitchen!
Anyway, joking aside... apparently it's great quality for what we want, so that's a positive! Also, the deck and porch were completely written off, so we had them dismantled and removed yesterday. Well... now we have a bigger yard, I guess!
Update: We've sold enough books / received enough donations to cover my not-covered-by-insurance car! Thank you all SO much for your orders, donations, and spreading the word! We are appreciative beyond words, you've blown us away with your kindness, generosity, and thoughtfulness! "Thank you" just doesn't cover it.
Now we're working on the difference between what insurance will cover, and what the actual damage is. Still freaked out by "blew past your limit"! Even since the adjuster was out, as we remove debris and start to clean, we keep finding more damage / destroyed items 🙁
On a positive note, I was doing good about shipping all book orders same day/next day, depending on whether the order arrived before or after my trip to the post office. Everything ordered since Friday will be shipped on Tuesday, as I ran out of mailers and had to order more! They'll get here on Tuesday.
Update: We're pretty much at the point where we're done hauling, and everything else is up to contractors. I've been spending some of my time volunteering with the tornado victims. Will be writing a blog entry about that soon! Trying to pay forward all of the help we've received!
Update: I want to add... We feel awful about asking for help. It's not in either one of our natures. We're definitely planning to "pay it forward", and have made efforts to that end already. We've been quick to help out when we've known someone in need, so we know how helpless it can feel to be watching this sort of thing from afar. Right before this happened, I was starting to organize to send books to a town where the library burnt down in a huge wildfire- and I'll still be doing that, as soon as we get our immediate concerns dealt with (Like being able to stay in our house! I work from home!).
Anyway.. for us to ask for/accept help is a really big deal to us, so I want it known that your kindness and generosity doesn't stop here. We are keenly aware of the HUGE "karmic" debt we are racking up through this ordeal!
On the afternoon of May 22, 2011, North Minneapolis was devastated by a tornado. Twisted recounts the Porters' first 11 months, post disaster. Rebuilding their house, working around the challenges presented by inadequate insurance coverage. Frustration at repeated bouts of incompetence and greed from their city officials. Dealing with issues such as loss of control, logistics, change, and over-stimulation, as an Aspergian woman.

Subjects covered include: Opportunistic "Vultures", gawkers, new friendships, a bizarre gingerbread house, unique decisions made with the rebuild - including an internet-famous kitchen backsplash, "Tornado Claus", contractor drama, water balloons, DIY design and work, music, sensory overload, and details on how to cook jambalaya for almost 300 people, in the parking lot of a funeral home... should you ever find yourself in the position to do so. Order your hard copy here, or digital edition here.