Originally Posted October 22, 2009. Updated 12/7/2020
Sponge Toffee was one of my favorite treats as a kid.
We used to get it at corner stores, farmer's markets, and gas stations... or make it at home. I loved the contrast between the appearance (bubbles!), and the crispy texture.
Whether I'd let it melt in my mouth slowly, or chomp through (and pick the sugar off my teeth for a long time afterwards!), it was just a fun food to enjoy.
As I got older, I realized that gas station sponge toffee is just *no* match for homemade.
This is really easy to make, and a lot of fun for kids to watch (From a distance! Hot sugar can be dangerous!).
What is Sponge Toffee?
Sponge toffee is an easy to make candy that's usually sold in blocks or in chunks / nuggets.
The technique used to make the candy causes it to fizz up at the last minute, and it hardens full of holes. This gives it an airy, bubbly, almost flaky texture.
How to Make Sponge Toffee
Like all caramel or toffee based candy, this one starts off by boiling sugars together with water.
As the water boils off, temperature raises, the sugar caramelizes, and the whole mixture becomes something capable of hardening into a brittle candy.
At the last minute - as soon as the mixture reaches the appropriate temperature - you quickly mix some baking soda in, which causes it to VIOLENTLY bubble up.
Be very careful with this - sugar burns are no joke! Be sure to use a long handled spoon to mix the baking soda in, keeping your hands clear of the ... volcano.
As you stir the baking soda in, you'll want to be sure it's well incorporated, but you'll also want to be mindful of how much you stir / beat it.
The less you beat it, the higher it will rise, and the bigger the holes will be.
The more you beat it, the smaller the holes will be, the less lift you'll get, and the denser the final candy will be.
Once you've beat it as much as you'd like, quickly pour it into a prepared 9 x 13" pan.
If you've been judicious in your mixing, it will continue to foam a bit in the pan - it's good to not beat the "life" out of it, in the pot.
Then, you let it cool.
If you'd like set sizes / shapes (blocks, bars), you can score the candy with a sharp knife. DO this several minutes after pouring it into the pan, so you don't affect the rise.
As the candy cools, gently re-establish your score cuts, bit by bit. Once it's 100% cooled, you can easily break it into the blocks or bars you'd like.
Sponge Toffee Around the World
Growing up, it was "sponge", but some older people (looking back, probably immigrants or 1st gen Canadians from England, where "Honeycomb" is the term for it) would call it honeycomb toffee.
I always liked that - it's a much cuter / more tasty sounding name than "sponge". Who wants to eat a sponge, anyway?
When I was in Minnesota, it was called "sponge candy" the few times I saw it. It definitely wasn't as commonly available there, as it had been my whole life in Canada.
Via friends, I learned that the same stuff was referred to as "foam candy" or "seafoam" in some other places in the US.
Sponge Toffee - or something very similar - exists around the world, in slightly different variations, and with a bunch of different names.
I love that New Zealanders call it "Hokey Pokey" and put it in ice cream!
As a kid, I enjoyed drizzling ice cream with a bit of corn syrup and topping with the crumbs left over from making a batch of this toffee.
Sponge Toffee Variations
Chocolate Dipped
The most common variation you'll see to this recipe is to dip the final - cooled - candy into chocolate.
Here in Canada, we have a popular candy bar based on this idea, the Crunchie bar. (I have a recipe for Homemade Crunchie Bars!).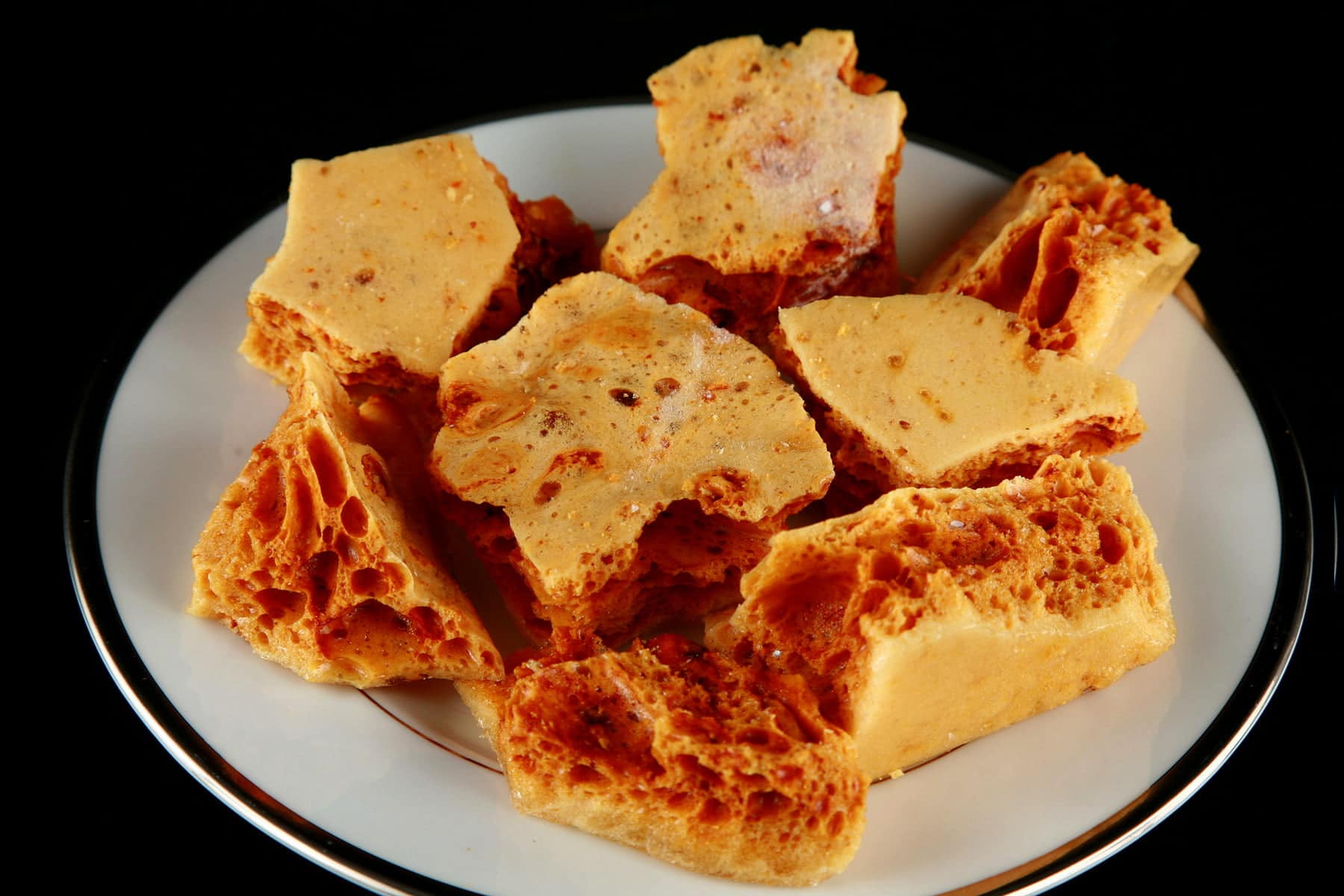 Other than that, you can break up the cooled candy and dip them - fully or partially - in the melted chocolate of your choice.
Personally, I prefer milk or dark chocolate for this. While I enjoy white chocolate in general, it doesn't taste quite right with the toffee.
Ginger Molasses
While I wouldn't call this a common variation - I came up with it myself, years ago - you can always swap out the corn syrup and add some ginger to make Ginger Molasses Sponge Toffee!
I designed that recipe to have the taste of a gingersnap cookie, only in candy form. I love the stuff!
Share the Love!
Before you chow down, be sure to take some pics of your handiwork! If you Instagram it, be sure to tag me - @CelebrationGenerationCA - or post it to My Facebook Page - so I can cheer you on!
Also, be sure to subscribe to my free monthly email newsletter, so you never miss out on any of my nonsense.
Well, the published nonsense, anyway!
Enjoy!
Sponge Toffee
Sponge Toffee is an easy candy to make - one of the first I learned to make, as a kid - and it's also one of the first recipes I blogged. Give it a try!
Servings:
20
- 1 9x13 pan of toffee
Ingredients
2 ½

cups

granulated sugar

⅔

cup

corn syrup

6

tablespoon

water

2

tablespoon

baking soda

2

teaspoon

vanilla
Instructions
Prepare a 9″ x 13″ cake pan with nonstick spray, or a light coating of vegetable oil or shortening. Set aside.

In a large saucepan, stir together sugar, corn syrup, and water. Attach a candy thermometer to the pan, making sure that it does not touch the bottom of the pan.

Bring mixture to a boil, and allow to cook until temperature reaches 300 degrees F (hard crack stage). From the time mixture starts boiling to the time it reaches 300F, do not stir.

Once mixture reaches 300F, remove from heat.

Add vanilla and baking soda, beating to incorporate. The mixture will start foaming quite a bit when you add the baking soda (chemical reaction!), so using a LONG wooden spoon is a good idea. The sugar will be very hot, and will burn if you get any on your hand as you stir. Be very careful and work FAST.

Dump foaming mixture into greased cake pan, spreading it out as evenly as possible. Allow it to cool completely.

Once toffee is cooled all the way through, remove from pan and snap into chunks / nuggets and serve.
Notes
Be sure to store toffee in an airtight container – the sugar will attract water from the air, and the toffee can go soggy.
While you definitely want the baking soda to be fully mixed in, know that how much you beat it affects the final texture.  If you beat it a lot, the air bubbles will be smaller than if you don't. 
If you like big, airy toffee, beat it the minimum possible, and GENTLY pour it into the pan. DO NOT disturb it - it will keep rising and developing big bubbles.
Nutrition
Calories:
130
kcal
|
Carbohydrates:
34
g
|
Protein:
1
g
|
Fat:
1
g
|
Sodium:
336
mg
|
Sugar:
34
g
|
Calcium:
1
mg
|
Iron:
1
mg
More All Recipes
Reader Interactions