Porter's Epic Popcorn - Cheddar cheese, bacon, bacon fat, and jalapeno powder makes this popcorn flavourful and decadent!
Originally Posted May 21, 2013. Updated 1/8/2021
Well, the MasterChef premiere airs tomorrow... probably a good time for a Porter's epic popcorn recipe!
In our household, I never, ever make the popcorn. I CAN make popcorn, but my husband is so much better at it - he's a proper popcorn making ninja.
Even when just basic buttered/salted popcorn, he's just gifted at getting the right temperatures, the perfect amount of butter, the right amount of salt.
Plus, really... popcorn always tastes better when someone else goes to the effort, right?
Anyway, today's blog entry is his own creation:
Porter's Epic Popcorn
This is loaded with bacon, bacon drippings, cheese, AND some jalapeno kick - it's not high cuisine, and it's not diet food by any stretch of the imagination.
It is, however, some of the best popcorn I've ever had!
As Porter likes to say, "It's a fun and simple way to take something normal and make it truly awesome."
Oh, it IS that! I married a GENIUS.
Hope you enjoy this as much as we do.
Epic Popcorn Variations
The flavour in this comes from the combination of 3 main ingredients: Bacon, Jalapeno Powder, and Cheddar Cheese.
While swapping the bacon out would change the fundamentals of this recipe, swapping out the heat and the cheese can yield fantastic results.
A few ideas:
- Hatch Chile Powder and Monterey Jack cheese
- Smoked Serrano Powder* instead of the Jalapeno.
- Honestly, just swapping the Jalapeno Powder out for another type of pepper changes the profile wildly. Try Chipotle Powder , Ancho Chile Powder (Dried ground poblanos - pretty mild, but tasty!), or Peri Peri / Piri Piri (It's actually a blend, and brings a more complex flavour as a result).
- On THAT note, my Berbere Seasoning is fantastic on popcorn... with or without bacon and cheese. Just saying 🙂
* Smoked Serrano Powder is one of my absolute favourite spices ever! I totally recommend picking some up if you like a little heat!
Not only is it fabulous as a swap for cayenne or chili powder in actual chili, I use it in things like my Roasted Cauliflower Soup with Smoked Serrano Drizzle, Smoky Dry Rub for Wings, and a smoky version of my Homemade Seasoned Salt, among other things.
SO good!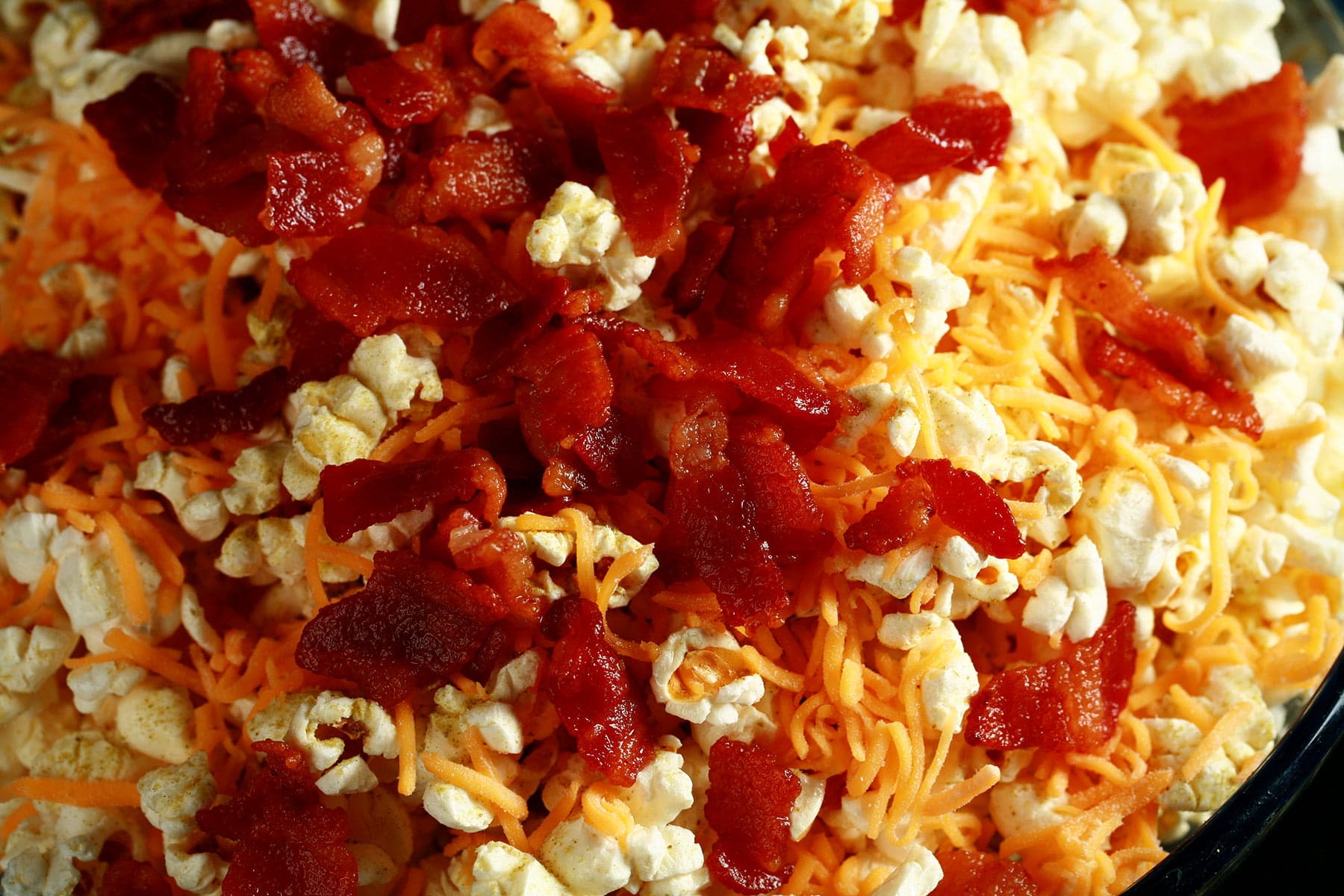 Share the Love!
Before you chow down, be sure to take some pics of your handiwork! If you Instagram it, be sure to tag me - @CelebrationGenerationCA - or post it to My Facebook Page - so I can cheer you on!
Also, be sure to subscribe to my free monthly email newsletter, so you never miss out on any of my nonsense.
Well, the published nonsense, anyway!
Porter's Epic Popcorn
Cheddar cheese, bacon, bacon fat, and jalapeno powder makes this popcorn flavourful and decadent! There's a reason we call it "epic", after all!
Ingredients
1

lb

Bacon

Chopped

⅔

Cup

Popcorn Kernels

Butter

Optional

Salt

Cheddar Cheese

Finely Shredded
Instructions
Fry up the bacon as crispy as you would like. Strain off the bacon, reserving the drippings.

Use some of the bacon drippings – about as much as you'd normally use butter or oil – to pop the popcorn. If you're using an air-only popper, skip this step.

Toss the popped popcorn with bacon drippings, alone or combined with a bit of melted butter. Be sure that the drippings (and butter, if using) are NOT super hot, or it will ruin the popcorn.

Season the popcorn with jalapeno powder and salt, to taste. Toss well to combine.

Sprinkle popcorn liberally with shredded cheddar cheese, top with bacon.
Notes
* Jalapeno powder is just dried, pulverized jalapeno peppers. It adds a ton of flavor to popcorn, without all of the crap found in store bought popcorn seasonings!
Nutrition
Calories:
192
kcal
|
Carbohydrates:
7
g
|
Protein:
6
g
|
Fat:
15
g
|
Saturated Fat:
5
g
|
Cholesterol:
25
mg
|
Sodium:
251
mg
|
Potassium:
100
mg
|
Fiber:
1
g
|
Sugar:
1
g
|
Vitamin A:
14
IU
|
Calcium:
2
mg
|
Iron:
1
mg